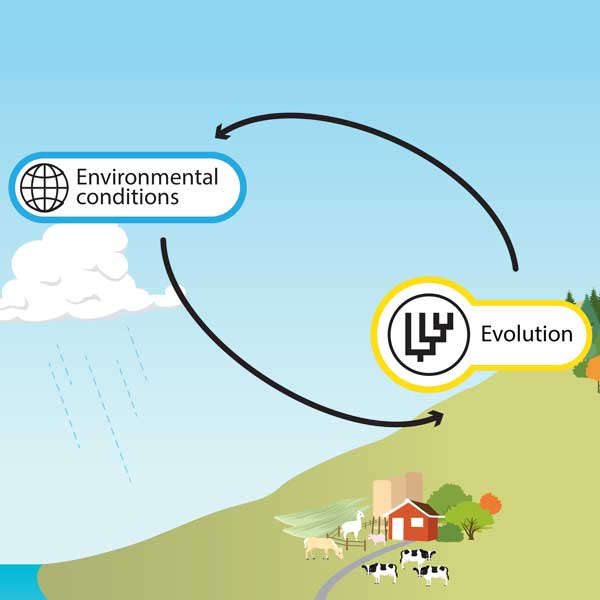 Evolution is the change in characteristics of populations of organisms over time.  Changes can be small, for example, a small change in body size or a change in the color of a species' fur.  Over many generations evolutionary change can result in the evolution of new structures such as wings, or new functions such as photosynthesis.  Evolutionary change can profoundly affect the Earth system.  For example, the evolution of land plants dramatically changed the carbon cycle.  Our knowledge of the major events in evolution, such as the origin of the major animal body plans, the origin of flight in birds, and the diversification of mammals, comes from studying the characteristics of living species and from fossils in the geologic record.
On this page
For the classroom: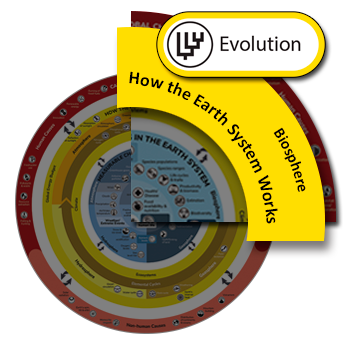 Global Change Infographic
Evolution is an essential part of How the Earth System Works.  Click the image on the left to open the Understanding Global Change Infographic. Locate the evolution icon and identify other Earth system processes and phenomena that cause changes to, or are affected by, evolution.
What is Evolution?
Biological evolution is, simply, descent with modification. This is a change in the heritable characteristics in an interbreeding population of organisms from one generation to the next.  These characteristics can be any aspect of the organism's biology, its traits, which include how it looks (also called its morphology) and how it functions.  These functions can also be biochemical, physiological, or behavioral.  Traits are heritable if they coded are for in an organism's genetic material (its DNA) so that they can be passed from parent to offspring.
Evolution is possible when there is variation in the genetic makeup among organisms that affects their traits.  Then, if certain individuals in a population reproduce more successfully than others so that their traits become more common within the population, the result is evolutionary change.   The reason for more successful reproduction can either be the result of natural selection, or by random chance, where the more successful reproduction is just due to good luck.
When evolutionary change is due to random chance, that is, when reproductive success is not determined by heritable traits, it is termed genetic or random drift.  For example, if members of a population are wiped out due to a flood, this might not be related to their heritable traits, but just due to where they happened to be when the event occurred. In contrast, change due to natural selection occurs when individuals are more likely to survive and reproduce because of the particular traits that they inherited from their parents.  Changes that are the result of natural selection are called adaptations.  For example, inherited characteristics that result in cooperative behavior to avoid being eaten, such as the ability of ants, bees and termites to build large nests, is an adaptation.
Earth System Model about Evolution
Changes in both the biological and non-biological (abiotic) environmental conditions (measurable changes) cause evolutionary change.  In turn, evolutionary change typically changes the biological environment, affecting species interactions, for example.  Evolutionary change can also influence non-biological processes and phenomena in the environment.  For example, the evolution of darker leaves can increase the amount of sunlight absorbed, leading to heating of the surrounding environment.
How Human Activities Influence Evolution
Human effects on the biosphere have been dramatic. Much of our impact on evolutionary processes is due to activities that cause declines in species populations, including:
Population declines lead to evolutionary change when individuals with specific characteristics are more likely to survive the declines than others.  Additionally, when populations decline, the variation in heritable traits is lost, which in turn potentially decreases the ability of the population to respond to future environmental changes. Population declines are typically a focus of conservation efforts because small, isolated populations are at greater risk of extinction, the permanent disappearance of the species.
Human activities also favor species that thrive in habitats modified by humans, for example, pigeons in cities, drug resistant bacteria in hospitals, and grasses (weeds) in urban environments.  Deliberate human selection can also drive evolutionary change, for example, selection for corn with more kernels, wheat with more seeds, or salmon that grow larger and faster.
Extinction is more likely to occur with rapid, large-scale environmental change, because species do not have time to adapt to the changing conditions.  The fossil and geologic records show us that human induced changes in the Earth system have caused extinctions, especially over the last 200 year.  Much of this change has been caused by extensive habitat loss use due to agricultural practices and deforestation.  Human caused change has been much faster than pre-human change.
Example Model of How Human Activities Influence Evolution
Both male and female elephants have tusks, although male tusks are usually much larger. Elephants use their tusks to dig watering holes and to strip bark off trees. Male elephants also use their tusks to fight for access to females. In most populations, about 6% of African female elephants have a genetic variation that results in tusklessness – those elephants do not grow tusks.  However, in Gorongosa National Park in Mozambique Africa, 50% of female elephants 20 years old and older are now tuskless.  What happened to increase the frequency of the tuskless trait? Hover over the icons on the Earth system model below for brief explanations; click on the icons to learn more about each topic.
Explore the Earth System
Each of the bolded terms on this page (e.g., species populations, productivity and biomass, etc.) and the icons in the Earth system models above link to other pages where you can learn more about the processes and phenomena connected to evolution. Visit these other pages to continue your exploration of the Earth system.  Alternatively, explore the Understanding Global Change Infographic and find new topics that might be of interest and/or locally relevant to you.
Investigate
Learn more in these real-world examples, and challenge yourself to construct a model that explains the Earth system relationships.
Links to Learn More