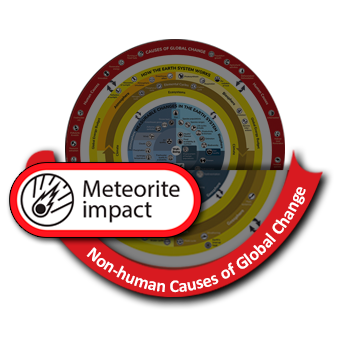 A meteorite impact occurs when a rocky, metallic (typically iron), or icy body that had been orbiting the Sun passes through the atmosphere to hit the Earth's surface.  In contrast meteors are similar objects that are sufficiently small that they are completely vaporized or burn up in the atmosphere, and do not collide with the Earth's surface.  Bigger impacts leave craters, and the largest impacts cause global changes to the atmosphere, hydrosphere, and biosphere.
Meteorites give astronomers and geologists important clues about the composition, age and history of the early solar system.
The vast majority of meteorites are small, no larger than a pebble, and have very little effect on the Earth system.
Very large meteorite impacts are rare, but an impact 66 million years ago in what is now the Yucatan Peninsula in Mexico is hypothesized to have caused the extinction of many plant and animal species, including all dinosaurs, except the ancestors of the living birds.  This meteorite impact affected the Earth system in many ways, including:
Temporarily heating the surface of the Earth to several hundred degrees Celsius from the friction of airborne particles that had been ejected into orbit by the impact as they fell back to Earth. This intense heat might have lasted just a few minutes.
Following the intense heating, temperatures likely dropped for several months due to limited sunlight caused by a partial blocking of sunlight by the airborne particles.
Disruption of photosynthesis due to the limited sunlight, reducing biomass and productivity.
Altering the landscape at the impact site, and in surrounding areas due to landslides and tsunamis caused by massive earthquakes caused by the impact.
Melting of rocks at the impact site, which would have released carbon dioxide into the atmosphere, resulting in greenhouse warming.
Increased acid rain from the reaction of water with the sulfur dioxide and carbon dioxide added to the atmosphere by the impact.
Igniting fires near the impact site.
Causing the extinction of many organisms, altering the evolutionary history of life on Earth, for example, by paving the way for the emergence of large bodied mammals with the extinction of the large bodied dinosaurs.
Massive impact events early in Earth's history, some due to the collision with objects the size of small planets:
Visit the evolution pages to learn more about how meteorite impacts have influenced the biosphere, and the absorption and reflection of sunlight page to learn more about Earth's energy budget.
Investigate
Learn more in these real-world examples, and challenge yourself to construct a model that explains the Earth system relationships.
Links to Learn More