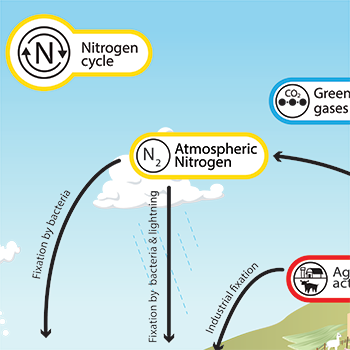 The nitrogen cycle refers to the movement of nitrogen within and between the atmosphere, biosphere, hydrosphere and geosphere. The nitrogen cycle matters because nitrogen is an essential nutrient for sustaining life on Earth. Nitrogen is a core component of amino acids, which are the building blocks of proteins, and of nucleic acids, which are the building blocks of genetic material (RNA and DNA). When other resources such as light and water are abundant, ecosystem productivity and biomass is often limited by the amount of available nitrogen. This is the primary reason why nitrogen is an essential part of fertilizers used to enhance soil quality for agricultural activities.
On this page:
For the classroom: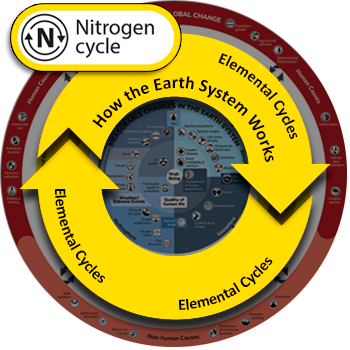 Global Change Infographic
The nitrogen cycle is an essential part of How the Earth System Works.  Click the image on the left to open the Understanding Global Change Infographic. Locate the nitrogen cycle icon and identify other Earth system processes and phenomena that cause changes to, or are affected by, the cycling of nitrogen.
What is the nitrogen cycle?
Nitrogen cycles through both the abiotic and biotic parts of the Earth system. The largest reservoir of nitrogen is found in the atmosphere, mostly as nitrogen gas (N2). Nitrogen gas makes up 78% of the air we breathe. Most nitrogen enters ecosystems via certain kinds of bacteria in soil and plant roots that convert nitrogen gas into ammonia (NH3). This process is called nitrogen fixation. A very small amount of nitrogen is fixed via lightning interacting with the air. Once nitrogen is fixed, other types of bacteria convert ammonia to nitrate (NO3‑) and nitrite (NO2–), which can then be used by other bacteria and plants. Consumers (herbivores and predators) get nitrogen compounds from the plants and animals they eat. Nitrogen returns to the soil when organisms release waste or die and are decomposed by bacteria and fungi. Nitrogen is released back to the atmosphere by bacteria get their energy by breaking down nitrate and nitrite into nitrogen gas (also called denitrification).
Nitrogen levels can vary significantly in aquatic and terrestrial habitats, and can be affected by various human activities and environmental phenomena, including:
Earth system model about the nitrogen cycle
The Earth system model below includes some of the processes and phenomena related to the nitrogen cycle.  These processes operate at various rates and on different spatial and temporal scales. For example, fixation of nitrogen by bacteria happens on small spatial scales, but human use of fertilizers can impact entire ecosystems. Can you think of additional cause and effect relationships between the parts of the nitrogen cycle and other processes in the Earth system?
Explore the Earth System
Click the linked bolded terms (e.g. agricultural activities, productivity and biomass, and nutrient level) on this page to learn more about these process and phenomena. Alternatively, explore the Understanding Global Change Infographic and find new topics that are of interest and/or locally relevant to you.
Links to Learn More