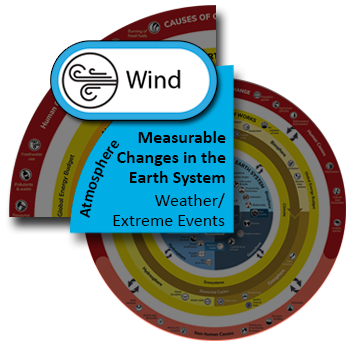 Wind is the movement of air across Earth's surface. It is caused by differences in atmospheric pressure.  The global atmospheric circulation pattern is determined by temperature differences, especially the difference between heating at the equator and the poles, and by the Earth's rotation.  Winds shape regional climate and influence daily weather by transporting heat and water.
Various human activities and environmental phenomena can influence wind patterns, including:
Wind affects various Earth system processes and phenomena, including:
Can you think of additional cause and effect relationships between wind and other parts of the Earth system?
Visit the atmospheric circulation, ocean circulation, and the temperature pages to explore more connections between the atmosphere and global changes.
Links to Learn More