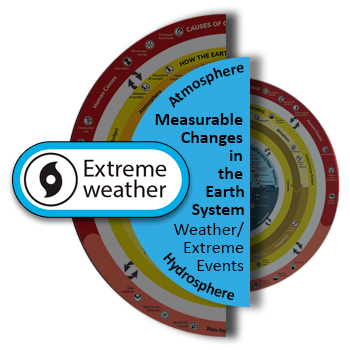 The weather refers to the condition of the atmosphere at a particular place at a particular time.  It encompasses the temperature, air pressure, relative humidity, cloudiness, precipitation, and wind speed and direction. An extreme weather event is unexpectedly severe weather. Severe changes in weather can disrupt ecosystems, cause damage to human infrastructure, and displace human populations.
The nature of extreme weather events varies with geographic location and can vary with the season. For example, the Gulf Coast and eastern United States in the summer and fall are threatened by hurricanes, while the fall is traditionally the fire season in California. While human caused global warming is not the sole cause of extreme weather events, increased average global temperatures have increased the intensity of these events. For example, Hurricane Harvey made landfall in Texas in 2017, and was stronger than previous storms due to both increased air and ocean water temperatures. Warm air also holds more water vapor than cold air, leading to heavier and longer precipitation events. Thus, Harvey, for example, released over five feet of rain in just four days in some regions, which resulted in extensive flooding. The likelihood of a large storm like Harvey occurring again increases as global temperatures rise.
Understanding and predicting how climate change affects patterns of hurricanes, floods, droughts, and heat waves is an area of active research. Many human populations and ecosystems will experience climate change primarily in the form of extreme weather events.
Changes in extreme weather events affect various Earth system processes and phenomena, including:
Displacing humans or populations of other species. This can be due to flooding, erosion and high winds from events like hurricanes that destroy communities, or a lack of freshwater availability due to drought. In turn, changes in freshwater quality or availability can affect agricultural activities.
The health of human populations and other species when exposed to extreme temperatures (i.e., extreme heat and cold events).
The frequency and size of fires. Regions that experience dry seasons are often susceptible to fires. In many of these regions climate change due to global warming is making their fire seasons longer, with more frequent and larger fires more likely each season.
Can you think of additional cause and effect relationships between extreme weather events and other parts of the Earth system?
Visit the water cycle, atmospheric circulation, temperature, and precipitation pages to explore more connections between the weather and other global changes.
Links to Learn More